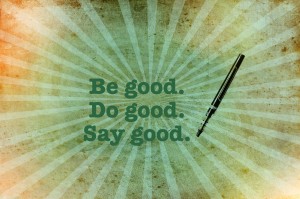 In an age of alternative facts and fake news, with public trust in corporations, government, and media at an all-time low, it's crucial for your brand to be good, do good and say good … before you're called out.
Why? Because you will be called out if your brand is failing on any one of these three fronts. The fact is, before they even interact with you, the people consuming your products, services AND content are disheartened, discouraged, dissatisfied, polarized and skeptical. About everything. And, they can let you–and everyone in their social circles–know about it. According to the Edelman 2017 Trust Barometer, we are in a worldwide trust crisis.
Even the best brands fall short from time to time, but as marketers, you can be the champions inside your companies to help cushion and maybe even prevent the fall. With the ability to have your finger on the pulse of customer attitudes and beliefs, you have tools at your disposal to uncover issues and bring them to the attention of those who can do something about them, before a Twitter war ensues.
So, let's look at "Be Good, Do Good, Say Good" through a marketing lens to see ways you have the power to impact performance in each area:
BE Good.
Your products/services must live up to your brand promise and be delivered by representatives who really do want and appreciate the business. If you fall short here no marketing in the world will help. Beyond that, it's easy to know how your products and services are impacting your customers by simply asking them. Here are a few smart ways to do that:
Routinely offer customer satisfaction surveys. If you don't have a research department, this can be as easy as SurveyMonkey, SurveyGizmo, GetFeedback or the many other programs that take the guesswork out and often link to your social media accounts.
Include social listening. There are so many programs that help you do this, from the free (or nearly free) ones like Hootsuite, Addictomatic and Mention to the paid subscription platforms like Meltwater and numerous others.
Pay attention to reviews. This is a no-brainer, but beyond paying attention and responding to reviews, make sure when you're building your bank of them that they're real. An "employee, friends and family" stacked deck is easy to spot and will backfire.
Perform vulnerably assessments. This one requires a little explanation, because unlike the other three, not everyone does it. A vulnerability assessment checks across every major functional area of your company to run an inventory of potential crisis areas – what would be your worst nightmare if a certain thing happened and how likely is it to happen and within what time frame. You're checking for any potential harm issues along: company and community history, geography, human error, property and equipment and employees and labor. Once you know your vulnerabilities, you can create a plan to address them.
And, act on all the information you're gathering. Customers expect that if you've solicited their opinion, or they reach out to share it with you, you'll value and use it to improve.
DO Good.
Being a good corporate citizen is not just a nice thing to do, it's an expectation today.  In addition to being socially and environmentally responsible—which are essential—corporations that additionally give back in other ways win support, loyalty and often advocacy. Here are a few ideas that marketing can and does have the power to impact:
Make certain sponsorships support your customers' passions. The days of a logo on a corporate event banner being viewed as effective are long gone. Sponsorships are as essential as ever, but they must reinforce brand values and provide options for customers to become involved in your brand to THEIR benefit.
Create community support/enhancement programs. Say you're a pediatric office, how about picking a playground in your area that could use improvement and then mounting an effort to do it. There are so many ways to make your world a little better because you're in it. Find them. Then, work it.
Offer community support grants. As an example, the Walmart Foundation does a great job providing nonprofits with support grants to further the missions of vital programs inside the communities they serve. There are numerous other examples. And, in each instance, the help is needed and the world becomes a better place.
Encourage and enable your employees to volunteer as part of their jobs. In Columbus, Ohio, LifeTown–a simulated city that teaches kids with disabilities life skills they'll need for eventual adult independence–has volunteers from numerous corporations and both the kids and companies win. Employees feel more fulfilled as human beings when they operate outside of themselves, communities learn of the compassion of the companies, and recipients of the volunteerism gain the help they need.
Create ways for customers to partner with you in philanthropic efforts. Think about all the "pink" products that benefit breast cancer research. Or, one of my personal favorites is Tom's where every shoe purchase helps a person in need. There are many creative ways your business can do this.
SAY Good.
As important as it is to be and do good, it's equally important to be truthful, transparent and trustworthy. And, that has implications for your advertising and content creation.
When I was in journalism school at The Ohio State University, ethical standards–which were the only ones that existed in journalism–meant telling the unbiased truth. The truth that you could prove.
Now, companies have become their own publishers, able to bypass the media in a way that was impossible prior to the Internet, and they don't need a journalism degree to do it. Today, as the accuracy and unbiased nature of traditional media has eroded in a rush to compete against bloggers and citizen journalists, it's easy to think there are no ethical standards anyone has to adhere to, but nothing could be farther from the truth.
To "SAY good" with your brand, be better than today's standard. Way better.
When you create content for your blogs, social media posts, press releases, emails, newsletters, etc., adhere to the highest standards you can possibly create. Here are a few practices that may not be easier than sitting down and whipping out copy, but they will make your copy more credible. And, that's the point.
Create a policy for your content development team.
Have multiple sources for facts. In the J-school, that meant three.
Give real quotes. It's easier and faster for marketers to make up the quotes, whether from your customers, clients or CEO, but quotes will be better if they are authentic.
Provide reference links. If you did research to arrive at your conclusions, let your readers know.
Make provable statements. If you say "better" then explain … better than what and how.
Have a 'no typos' rule. It's not just the big lies, but the little things chip at credibility, too. Typos and grammatical errors show your brand cuts corners. If you cut little corners, your customers might not trust that you're not taking shortcuts on big things, too.
In a world where cultural preferences shift as fast as hashtags and memes gain popularity and then fall from memory, be a brand that endures. One that bases decisions on deeply held values that are evidenced in products and services, amplified to benefit the wider community, and communicated in truth.